Come Work With Us
The Vogel by Chervin Culture
Right from the beginning, we've based our foundational principle on the Golden Rule: Do unto others as you would have them do unto you. You need only look at our Core Values to see we are passionate and compassionate, appreciative and innovative, and we recognize the value and importance of everyone we meet. This respect extends to our customers and to the nearly 200 members of the Chervin team, many who are long-term employees. Ours is a positive, safe and nurturing environment, where our team members can thrive and grow and be proud of their work.
The Vogel by Chervin Team
As a member of the team, you will be valued for what you bring to the table and consistently challenged to learn and develop. you will be committed to our customers and to each other and thrive on collaborating with this dynamic team. You will take pride in and ownership of your quality workmanship and watch it bring success to the team, the company, and also to yourself.
If the Vogel by Chervin culture and team dynamics appeal to you, why wouldn't you join the Chervin team?
See our current team opportunities below.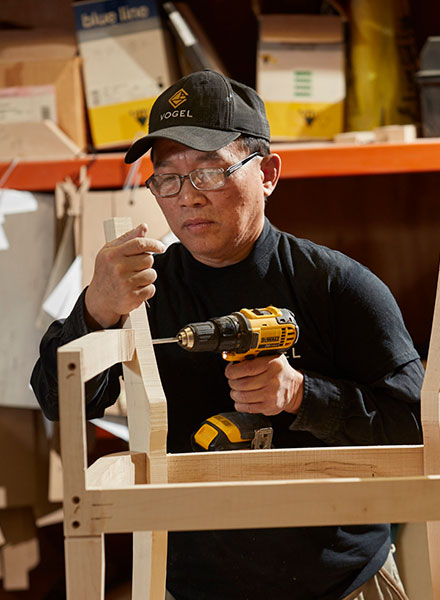 Upholstery Frame maker
We currently have an opening for an upholstery frame maker. This position is located at our manufacturing facility at 288 Garyray Drive, North York.
This is a full-time position with 45 hours a week. Benefits are provided after the 3-month probationary period.
Responsibilities and Duties
Cut frame parts to size as specified by drawings
Assemble stick built furniture frames using pneumatic and manual tools
Assist in other areas of the shop as needed
Requirements
1 year of frame building experience
No post-secondary education required
Ability to read and discern blueprints
Competent with woodworking tools
Capable of lifting 50-75 lbs.
Self-motivated, enthusiastic personality
Punctual and dependable
If you are interested in this position, please respond with your resume and references. Only those receiving an interview will be contacted. Thank you for your interest.